Yesterday, Ho Chi Minh City authorities seized 24 cartons of drugs and 13 cartons of illegally-printed labels of eastern herbal medicines, mostly trafficked from China at a store in Binh Thanh district. Earlier, thousands of other similar products had also been confiscated.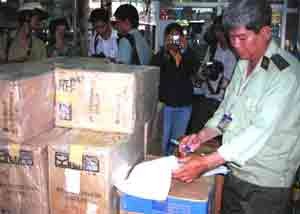 An offical of the City Market Management Team checks the herbs at a warehouse in Dist 5.
The owner of the N.S.D drugstore failed to produce invoices related to the medicines which do not have labels or quality registration certificates. He admitted he bought the herbs from flea markets on Hai Thuong Lan Ong, Phung Hung and Trieu Quang Phuc streets in District 5.
Such medicines had been packed into small plastic bags, labeled and then sold to consumers, he confessed.
Earlier on September 24, District 5 inspectors checked the Lam Vinh Hung Chinese traditional medicine drugstore on Hai Thuong Lan Ong Street and found over 13,000 herbal medicines in the forms of pills, sachets and ampoules had been illegally imported from China. They are used to treat fever, rheumatism and diabetes.
In an ensuing inspection at Van Hung drugstore on the same street, they found nearly 3,000 medical products similarly having no invoice and quality certificates.
The team seized the entire said contraband and sent samples to the HCMC Health Department for tests.