The Hue Central Hospital  organized an opening ceremony for tumor treatment medical center in its premise on January 16.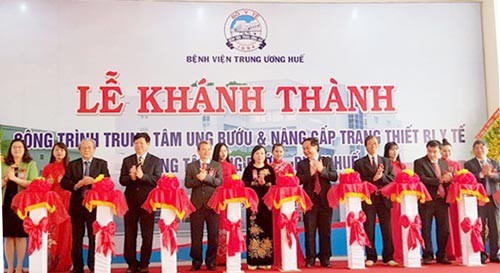 The opening ceremony of the Tumor Center (Photo: SGGP)
The center costs nearly VND200 billion (US$8.9 million) taken from the government's bond fund and Austria's official development assistance (ODA). The center has 300 beds and wards for operation, for radiotherapy, treatment and medical nuclear to make a modern self-contained treatment medical facility.

The center is equipped with the most state-of-the-art medical devices such as Elekta Axesse which is designed to treat a wide range of targets throughout the body, including cranial lesions and tumors in the spine, lung, prostate, and liver.

Speaking at the opening ceremony, Health Minister Nguyen Thi Kim Tien said that the center is a perfect hospital that can examine and treat patients suffering tumor and cancer and it meets the treatment demand of patients in the central and highlands.
The most important thing is that the center should early diagnose cancer to prolong patients' lives or reduce mortality rate of cancer in the near future, she said.

The Health Minister added that to perfect the center, the Ministry has given the greenlight to build a maternity center in the hospital's premise. The maternity center will have 300 beds with total spending of VND300 billion (US$13.3 million). The center will be built in the lat quarter of 2016.