There were reports of further bird flu outbreaks in the northern provinces of Ha Nam and Vinh Phuc on Wednesday, the Ministry's Animal Health Department reported.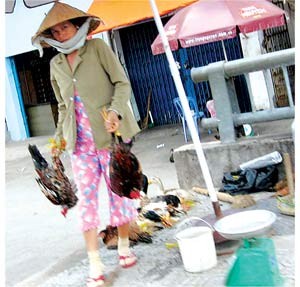 Increasing widespread of bird flu is due to live poultry shops in flea-markets
There are now 12 bird flu plagued localities, including the two new outbreak regions.
Further outbreaks have also occurred in areas already suffering from the disease, in the northern provinces of Ninh Binh, Nam Dinh and the southern city of Can Tho.
Due to the increasing widespread of bird flu,  Minister of Agriculture and Rural Development Cao Duc Phat, issued a message on Wednesday ordering all municipal and provincial people's committees throughout the country to adopt proactive measures to stop the disease and contain the spread of bird flu.
Furthermore, relevant agencies are being encouraged to launch campaigns to raise public awareness and provide the people with ways to prevent avian influenza infections amongst poultry and humans, he said.