Twenty junior school students suffered from poisoning after taking an overdose of the cough medicine called 'Recotus' yesterday, which has raised public concerns on the rampant use of drugs without doctor prescriptions.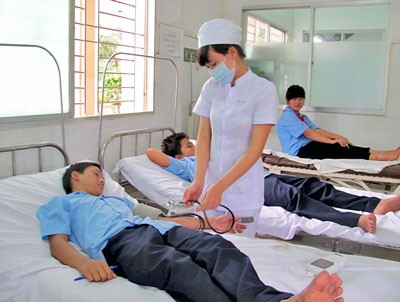 A nurse measures blood pressure of a student who suffered poisoning after consuming the cough medicine (Photo: SGGP)
At 11am on October 4 the General Hospital in District 2 of Ho Chi Minh City was informed that 20 students of the nearby Binh An Junior School had developed symptoms of poisoning after taking the cough medicine 'Recotus'.

Nguyen Ha Minh Thu, an eighth grader said she had bought the medicine for her cough from a pharmacy at the crossroad of Tran Nao-Luong Dinh Cua Streets.
At the pharmacy, the shop assistant gave her three packs of 'Recotus', each with 10 tablets, costing VND8,000. While Thu was having the medicine, her friends also wanted to have the same medicine for their coughs, some took one pill and others took two or more.
Soon after, they all felt relief from their cough and so continued to take more tablets.
However, half an hour later, they experienced headaches, nausea and giddiness.  Doctors at the hospital decided to hospitalize the students who had taken more than three tablets while the others were placed under observation. Police have taken the cough medicine for further investigation.
Health experts have warned that the use of the medicine, produced by a HCMC-based pharmaceutical company, and bought without doctors' prescription, was as fatal as drug use. Taking too many tablets can produce visual hallucination, feeling of disorientation, distortion of bodily perception, excitement, as well as a loss of sense of time.
While it can intoxicate, it can increase heart rate and blood pressure to dangerous levels and even cause death. Hence, the medicine must be used under doctor prescription only.
One month ago, a drug addict in central Vietnam slashed one person to death and injured 20 others after consuming 14 Recotus tablets, known as the 'ecstasy-inducing' cough medicine. Nguyen Van Tien, the assailant, became prone to violence after taking drugs, and ten days before his rampage, he had slashed and injured another man.
However, this medicine is sold openly in the country without doctor prescription and is a serious threat to human health.