Doctors of Bach Mâi Hospitl in Hanoi have successfully treated two patients with serious complications, the hospital announced yesterday.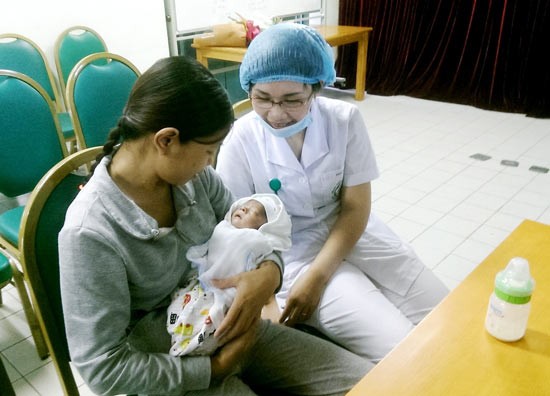 Trang and her son in the day when she was discharged from the hospital (Photo: SGGP)
In the first case, 31-year-old Hoang Ngoc Yen from Hanoi's Linh Nam District who has been suffering from kidney failure for the past seven years, gave birth to a 1.5 kilogram baby boy. For 7 past years, she had to go to the hospital's artificial kidney ward for undergoing dialysis three times a week.
In early 2015, she got pregnant yet women with kidney failure will face risk when they are receiving the treatment with a dialysis machine. Accordingly, the hospital's management board and leaders of the artificial kidey ward and maternity ward liaised to have the best treatment methods for her.
Doctors' efforts were rewarded when she gave birth to a 1.5 kilogram baby boy on September 6, 2015. After one month, the baby develops well and weighs 2.1 kilogram now.
The second patient is 28 year old Chu Tien Long from the northern province of Vinh Phuc's Vinh Tuong District. When he was taken to the hospital, doctors diagnosed that he has a tumor in his spinal column and the tumor had blocked his nervous system, belly and vein system.
Dr. Hoang Gia Du, head of the trauma orthopedic and spine ward, said that through consultation, physicians verified the tumor come from vertebra trunk impedes nerves, abdominal holes and pelvis vena cava.
Worse, the position of the tumor is in the waist where the aorta divides; consequently, without an operation, the patient will die yet the operation will be very complicated as the position of the tumor is in dangerous place; accordingly, a slight mistake will be worth his death in the operation room.