Vietnamese health authorities have recalled the sale of two drugs because they failed to meet with the standard health requirements.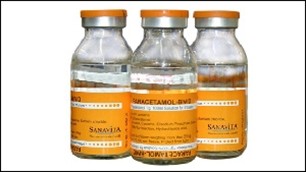 )
The Vietnam Drug Administration has decided to remove the drug Paracetamol – BIVID 1g/100ml from all counters. This drug is indicated for the short-term treatment of moderate pain, especially following surgery and for the short-term treatment of fever.
The drug was made by Sanavita Pharmaceuticals GmbH-Germany and imported by the National Pharmaceutical Company No.2. It was from lot number 090099 with an expiry date for November 2012 and registered number VN-4252-07.
Health authorities also announced a ban on the sale and use of the traditional medicine 'Dac che phat lanh hoan'. The drug is made by the Quan Y Sanh Company at 85 Tan Thanh Street in district 5. The drug was removed from sale counters as it failed to meet with requirements which check bacteria contamination.