The Porcine Reproductive and Respiratory Syndrome Virus (PRRSV) – also called "Blue Ear" - has hit two more Mekong Delta provinces, said the Ministry of Agriculture and Rural Development on August 12.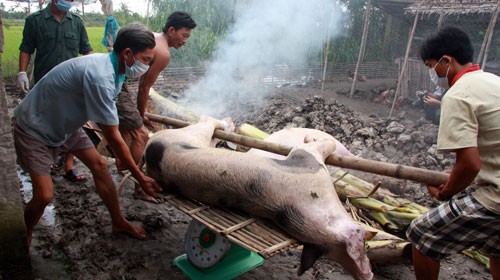 Residents in district Cai Lay in the Mekong delta province of Tien Giang where is  heavily hit by the pandemic destroyed dead pigs
Fresh outbreaks of blue ear in Mekong Delta provinces An Giang and Dong Thap have infected 2,222, including 60 already killed.
After these two latest reported outbreaks of the epidemic, Vietnam now has 21 affected provinces. The pandemic has spread widely in central and southern Vietnam.
The Mekong Delta province of Tien Giang has the most infected pigs in the southern region. Since July, the pandemic has swept over 49,000 pigs belonging to 2,000 households in the province.
The government has ordered breeders to kill over 20,000 animals. Total losses are estimated to be over VND400 billion.
The highlands province of Lam Dong officially announced that blue ear has plagued districts Da Tẻh and Bao Lam. Approximately 4,000 pigs have been destroyed in two weeks. The government has forbidden the sale, slaughter and transportation of animals from affected areas to other districts and has called for every available measure to be taken to fight the pandemic.
Of 3,000 infected pigs in Nha Trang in the south-central province of Khanh Hoa, the government has destroyed 500. Districts Ninh Hoa, Cam Lam, Khanh Vinh and Nha Trang City have been struck by the pandemic; however, Khanh Hoa's government has yet to announce the epidemic in the province, which could lead to further spreading.
The central province of Da Nang agreed to give farmers VND25,000 per kilo of meat lost as compensation. 304 pigs have been buried among the 3,000 infected, while the remaining is being treated.