Two people died of swine flu in the Central Highlands province of Dak Lak and the southern province of Binh Phuoc on September 19 and 20, health officials said.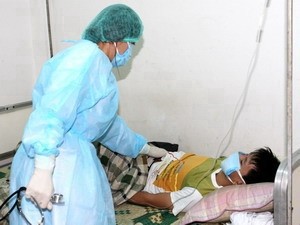 A medic is examing a swine flu patient (Photo: VNA)
Dr. Cao Minh Toan, deputy director of the Dak Lak Department of Health, said that a 46-year-old woman in Krong Pak District died at the district General Hospital.
She was admitted on September 17 in a critical condition with fever, cough, and respiratory failure.
The breathing problem worsened on September 20 and she died in spite of doctors' efforts.
The director of Binh Phuoc's of Preventive Medicine Center, To Duc Sinh, confirmed the province's first swine-flu death.
The 42-year-old D.T.K.C of Dong Tam District had fever, cough, and diarrhea on September 15 but had resorted to self-medication. Only when her condition failed to improve, she was taken to the province General Hospital to be diagnosed as having severe lung inflammation.
Medics suspected she had swine flu and tests done at Ho Chi Minh City's Pasteur Institute confirmed it.
The Preventive Medicine Center has ordered her house to be disinfected and his relatives informed, and warned its counterpart in the Mekong province of Vinh Long, where the patient will be buried, to monitor the funeral.
Health officials said they are yet to trace the source of disease.

Vietnam has had 6,883 confirmed human cases of swine flu, including nine deaths, though the Ministry of Health has yet to officially confirm the latest deaths.
The HCMC Department of Health said medical workers continue to monitor outbreaks of swine flu at three schools each in Districts 3 and Thu Duc and others in Districts 10, Go Vap, and Binh Tan.
More worryingly, the flu has hit two pre-schools -- Tuoi Tho 7 in District 3 and Tuoi Hoa in District 8 -- which said many kids have flu-like symptoms.
In related news, Dr. Nguyen Thu Van, director of the Vaccine and Biological Products No.1 Company, said the company is researching a new vaccine against the flu. If successful, Vietnam will begin to make it in 2010.