Health authorities in the central province of Quang Nam suspect cause of death of two persons to be due to contact with diseased pigs.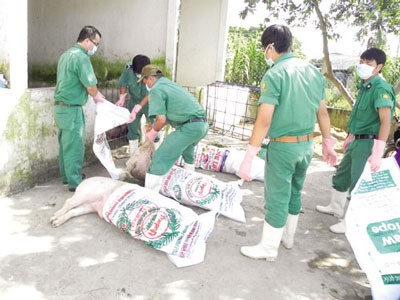 Vets are destroying diseased pigs (Illustration photo)
On February 2, Tran Van Mai, deputy chairman of the People's Committee of Dai Loc District in Quang Nam Province said vets had destroyed eight pigs that were diseased and could have been the reason for the deaths of Pham Thi Nguyet, 42, owner of a slaughter house in Binh Tay Village who died on February 8; and Nguyen Nguyen, 41, owner of a slaughter house in Xuan Tay Village who died February 10.
Health staff took samples of the two persons to test at the Department of Animal Health in the central city of Da Nang.
On February 4, Nguyet bought 24 pigs from vet Vo Thien Sinh in Dai Thang Commune for selling in the market.
However, after killing eight pigs she experienced symptoms of fever, diarrhea and internal bleeding. She was rushed to hospital but succumbed to the infection on February 8.
Later, vet Sinh brought the remaining pigs to Nguyen and asked him to slaughter them. Nguyen had the same symptoms as Nguyet after he killed two pigs and died on February 10.
After the local residents' tipped of the authorities, vets from the Department of Animal Health in Dai Loc District arrived at the houses of the two owners to bury the remaining pigs.