Two children suffering heavy septicemia which had almost 100 percent death rate before were saved by doctors of the Pediatrics Hospital I (PHI).
Tran Ngoc Hung, 4, was taken to the hospital in unconscious condition with high fever, jaundice and other symptoms of kidney and liver failure. After two sessions of over 48-hour continuous blood filtering and antibiotic treatment, he overcame the serious condition.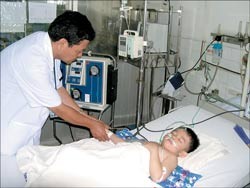 Tran Ngoc Hung are treated in the hospital
Another three-year-old patient, Pham Nguyen Hong Diem, transferred from a hospital in the southern province of Dong Thap, was suffering septicemia, shock, cardiac collapse and breathing with the help of the respirator.
After her blood had been continuously filtered, the child patient regained has now regained consciousness.
The septicemia was thought to be caused by inflammation of digestive system.

Hospital cost for each patient is over VND 40 million and is to be paid by state fund, according to the new policy on hospital charges for under-six children in Ho Chi Minh City.
Dr. Bach Van Cam, the head of Emergency Ward of the PHI, said that the blood filter machine, worth over USD 35,000 invested by the Ho Chi Minh City People's Committee is the first of its kind in Viet Nam for the treatment of children.

The machine can filter blood for children who suffer insecticide poisoning, bee stings and other dangerous inflammation.