Two more children have succumbed to the hand-foot-mouth (HFM) disease yesterday, raising the toll to 24 in Ho Chi Minh City.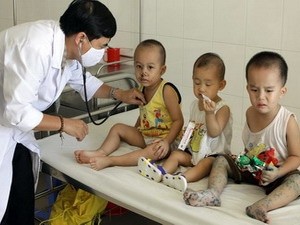 A medical worker checks young hand-foot-mouth patients in the central city of Da Nang (Photo: Vietnamplus)
The first child, 4-year-old Nguyen Le Bao Nhi from Tan Binh District was taken to Children's Hospital No.2 on August 15 at stage level 4 of the disease and died four days later.
She didn't suffer any infection nor has she been in any kindergarten before. She was living with two more children below the ages of 5, one of whom is under observation at the same hospital.
The second child was 1-year-old Vu Linh Dan from District 6. She was found vomiting continuously on August 15 and taken to Children's Hospital No.1 the following day.
However, she could not recover and passed away yesterday, and is now being taken to her hometown in the highland province of Lam Dong.
The HCMC Preventive Health Center is presently fumigating all vulnerable areas of both the districts to remove further contamination.
Last month, the Preventive Health Center in the northern province of Thai Nguyen discovered more than 30 cases, mostly young children between 2 and 5, infected with hand-foot-mouth disease.
Hoang Anh, Head of the Infectious Disease Protection Centre, said that most patients come to hospital with typical symptoms like high fever and rash on hands, feet, mouth and other parts of the body.
Eight highly infected patients were recently moved to the National Institute of Epidemiology, where the hospital tested 5 cases positive for EV71 virus, the main virus in hand-foot-mouth disease. With doctors following a strict course of treatment, all eight patients are now in stable condition.
The government has asked the Preventive Health Centers to closely work with medical centers of wards and communes to implement every possible method to stop the spread of the disease.