Following the death of a child in Ha Tinh after getting a hepatitis B shot on March 2, the central province has banned the vaccine until investigators can determine the cause of death.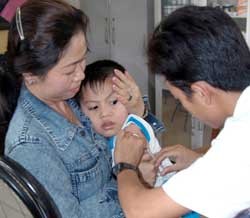 A child gets a vaccination. Side-effects like anaphylactic shock are a frequent occurrence, sometimes even causing deaths
Six hours after receiving the vaccine, the baby, just two days old, died. Its parents belong to Thach Ha District.
Before the start of the investigation, Dr. Nguyen Van Binh, deputy head of the Department of Health Preventative and Environment suggested that anaphylactic shock could be the cause of death.
He said the vaccine was given to two babies but the other child is stable.
The vaccines given to them were produced by the Ha Noi-based Biological Vaccine No.1.