The recent news that thousands of medicine capsules filled with powdered human baby flesh were uncovered by customs officials in South Korea has sent shockwaves across the world. However, oriental medicine has used them as remedies for many ailments for years and such drugs are sold rampantly and unchecked in Vietnam.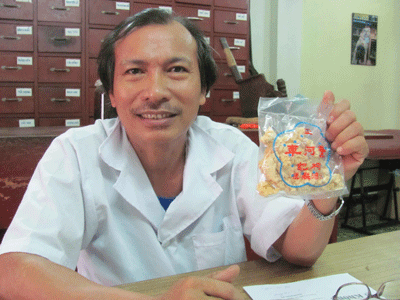 Dr. Nguyen Duc Nghia warns of capsules filled with foetus remains that can contain super-bacteria and other harmful toxins that can be fatal to human health (Photo: SGGP)
The capsules are in demand because they are viewed as being a medicinal 'cure-all'. The Chinese have historically consumed human placentas to improve blood supply and circulation.
The powdered foetus medicine trade is rampant in Districts 5 and 6 where most of the Chinese people live.
The medicine is sold for VND250,000 (US$12) or more depending on its value, at oriental medicine stores in Hai Thuong Lan Ong, Trieu Quang Phuc and Phung Hung Streets in District 5 in Ho Chi Minh City.
Stores say they import these drugs from China as there is a huge demand for the pills which are thought to enhance stamina.
A store said it sells 10-15 packets of drugs each day, adding that most of the patients are prescribed to take the drugs for treatment of sterility. Even some oriental physicians buy fresh foetus to preserve in wine or roll into balls to sell.
However, in reality, human flesh capsules contain super-bacteria and other harmful toxins, said herbalist Nguyen Duc Nghia, who has over 30 years experience in researching herbs and Vietnamese oriental medicines.
Meanwhile Dr. Tran Huu Vinh, head of the Department of Oriental Medicine Control under the Department of Health in the city, said they are not allowed to make or sell pills filled with powdered human baby flesh or foetus.
Nevertheless, the city has over 100 oriental medicine producers and 306 stores that distribute various kinds of drugs from unknown sources. It is clearly out of the reach of health watchdogs.


After South Korean authorities seized thousands of drug capsules smuggled out of China, Dr. Truong Quoc Cuong, head of the National Drug Administration, said his office has sent a dispatch to departments of health across the country, asking them to coordinate with market management, customs officers and police to heighten searches of suspicious packages being brought into the country by travellers from China, in an attempt to stamp out the sickening and horrid trade.