Though no case of avian flu has as yet been reported in the country, reckless and negligent behavior of residents and concerned agencies can pose a risk to the re-occurrence of the disease.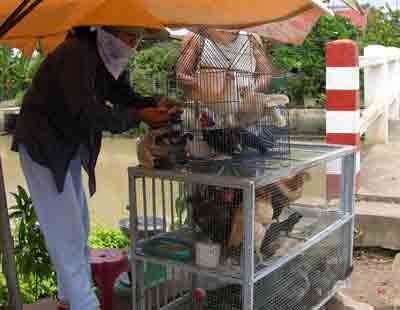 Live fowl being sold on Le Van Luong and Nguyen Van Linh Streets in district 7 (Photo: SGGP)
Unchecked rampant sale, trade and slaughter of poultry and waterfowl in flea-markets along streets of Ho Chi Minh City, particularly in districts 7, 8 12, Binh Chanh, Binh Tan, Go Vap and Hoc Mon can cause a sudden outbreak.
According to the Department of Animal Health in HCMC, the city reported around 30 poultry slaughter houses last year, which have increased many times over this year.
Meanwhile, after a brief hiatus of two weeks, the hand-foot-mouth disease is again posing a threat to children. Inspection teams from the Department of Health are continually issuing warnings across the city.
Dr. Nguyen Tan Binh, deputy head of the department, expressed his worry while predicting a fresh outbreak by November this year. He affirmed that the city has so far reported 8,343 cases of hand-foot-mouth disease including 24 fatalities.
Meanwhile, more than 400 cases of dengue fever are reported each week in HCMC. Since the beginning of the year, the city has reported over 8,000 dengue fever patients, including three fatalities.
The Pasteur Institute has issued a fresh warning against dengue fever, as the rainy season is most conducive to the spread of the disease.
The Ministry of Health said that the country has so far reported more than 47,600 hand-foot-mouth cases in 61 provinces and cities. The ministry confirms that the disease is still a threat to toddlers.

Meanwhile, the country has reported more than 31,000 dengue fever patients and 27 fatalities so far. In August alone, an additional 82,000 people were reported infected with dengue fever.