The Ho Chi Minh City People's Committee has decided to finance heart surgery for under-six-year-old children.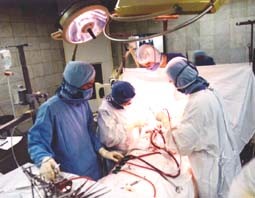 Doctors conduct an open-heart surgery for an under-six child
The committee will provide VND 35 million a case as maximum support.

However, if the children's family is on the poverty line it will receive more remission.

The Pediatrics Hospital I and II will be in charge of diagnosing children with all types of heart diseases.
Based on the diagnoses, doctors will decide whether to use drug treatment for patients or to transfer them to the Ho Chi MInh Heart Institute for operation.

The city authorities are expected to spend VND7 billion a year for medical examinations and free treatment for under six-year-old children.