Many children have fallen ill in Ho Chi Minh City ever since the weather changed unpredictably in the last few days.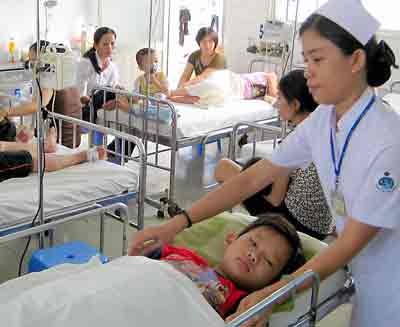 Many children hospitalized as weather changes (Photo: SGGP)
Dozens of children lie in the narrow lobby of the Respiratory Division of Children Hospital No. 1 and Children Hospital No.2, in Ho Chi Minh City, waiting to be admitted.  A doctor said that the division has only 100 beds but it has received more than 200 toddlers so far.  Medical workers were fretting as many children suffered from serious pneumonia. Yesterday, the children's hospitals examined over 3,500 kids and found that 40 percent were suffering from respiratory diseases.
Not just respiratory diseases but also other illnesses like measles, rubella, chicken pox and foot-and- mouth diseases were showing recurring signs. Medics said that this was the peak season for measles in the country. Meanwhile, dengue fever patients have increased, even though this is not the season. Medical workers were aware of the many severe complicated cases as dengue fever soared in children. 
According to the hospitals, most of the child patients in district 8, Tan Binh and Thu Duc districts received treatment in hospitals. The Center for Preventive Health said the city has nearly 1,000 dengue fever cases, up by twice the number in the same period last year.  Moreover, the disease was spreading quickly in crowded places like schools, offices and factories.
Medical experts have advised people to inject vaccine and keep their environment clean, while nutrition experts are telling people to have nutritious meals to help the body fight against diseases.