The Ministry of Agriculture and Rural Development held a meeting in Hanoi on August 14 to discuss the recent food scandals that once again are causing much concern among the public.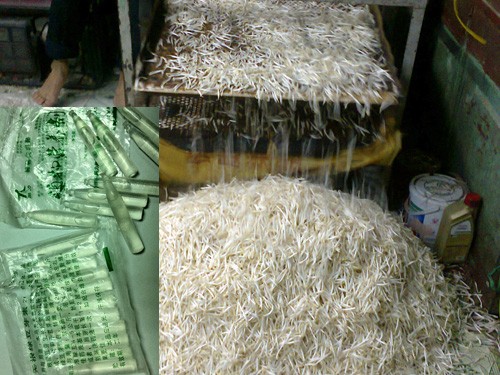 A farm grow bean sprouts with chemical ( in small picture) in Hoc Mon District
Nguyen Xuan Hong, head of the Department of Plant Protection, said that following media reports of farmers using a banned chemical to grow bean sprouts, the national food watchdog made unscheduled visits to seven of the 33 farms growing bean sprouts in Hoc Mon District of Ho Chi Minh City.
Subsequently, inspectors collected chemical samples used by farmers for growing the sprouts. The Chinese-made chemical tested positive for 6-Benzylaminopurine, a broad spectrum plant growth regulator, which is banned in Vietnam. Accordingly, farmers violated food safety and hygiene regulations.
The national food watchdog also launched inspections on farms in Hanoi, to find more farmers using chemicals to grow the vegetable, and conduct tests accordingly.
The food watchdog has now strengthened supervision on imported fruits and agricultural products. Batches of grapes and potatoes were found containing pesticides, far in excess of permissible limits, that have been brought in from China. As a result, future supervision will focus on Chinese grapes.
Related article:
Farmers fined for growing bean sprouts with banned chemicals