Dr. McKinnon from the US along with a team of surgeons from FV hospital in Ho Chi Minh City were successful in removing a gigantic 90 kilogram tumor from the right leg of 31-year-old Nguyen Duy Hai after a critical 10-hour long surgery.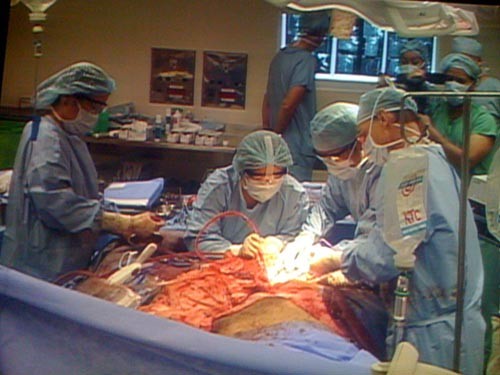 Surgeons performing the surgery to remove the gigantic 90 kg tumor (Photo: NLD)
Hai from Da Lat City in the central highland province of Lam Dong, suffering from a gigantic 90 kilogram tumor on his right leg, underwent an operation at 9:00am on Thursday at the FV hospital in HCMC.
 
Dr. McKinnon has earlier had experience of successfully removing a 200-pound tumor from a woman in 2000, in an 18-hour operation that drew worldwide attention.
So far the overall condition of Nguyen Duy Hai is said to be stable and he is holding on well after the lengthy operation, said Hai's family.
Medical experts reviewing the live televised operation said that Hai came through the operation very well as he did not lose too much blood, only 25 units as expected, although he experienced a pleural effusion, which is a buildup of fluid around the lungs, further weakening his health and making it too dangerous to perform surgery.
The surgery ended at 6 pm when surgeons successfully cut off the nidus, which was the orgasm feeding the gigantic tumor.
The entire operation cost around VND 420 million (US$ 19,971) in which the FV Hospital covered half the expenses and the Da Lat Red Cross and other benefactors paid for the rest.
Hai's tumor is believed to be the largest recorded tumor in Vietnam and perhaps in the world too.
Related articles:
HCMC hospital delays operation of 90 kg tumor patient
US experts to operate 80 kilo tumor