Dr. Le Hoang Minh, director of the Tumor Hospital in Ho Chi Minh City said that a 4 member team of American experts had accepted the challenge to operate on 31-year-old Nguyen Duy Hai who is suffering from an 80 kilogram tumor growth in his right leg.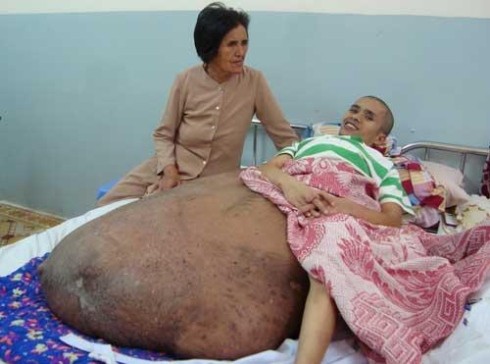 Hai with his mother
The Americans are leading experts in conducting surgeries on giant tumors. Dr. Minh said that tests results, X-rays and data gathered on Hai's tumor growth had been pre-sent to them for consultation with local doctors.
For the past 4 years, Hai has been living in the central highland town of Da Lat and unable to move, enduring excruciating pain. Fourteen years ago his tumor, then 25 kilograms, was operated upon and removed at the Lam Dong General Hospital, but it recurred again and continued to grow to its present weight of 80 kilograms and 107 cm long, 90 cm wide and 20 cm thick.
After local media released pictures of Hai's tumor, a team of doctors from HCMC Tumor Hospital led by Doctor Minh examined Hai at his house in Da Lat.
According to doctors, Hai is suffering from a rare genetic disease called Von Reckling Hausen, which affects one out of every 3,500 people worldwide. This form of genetic disorder causes nerve tissues to grow into tumors.