The U.S. Department of Defense has opened its first Viet Nam office for the American President's Emergency Program for the AIDS Relief (PEPFAR).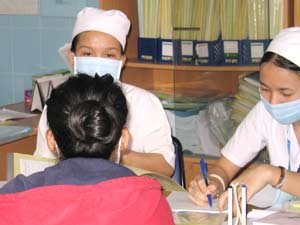 An HIV/AIDS carrier consults medical staff at a PEPFAR office in Ho Chi Minh City (Photo: Tuong Thuy)
The Department of Defense's PEPFAR military-to-military program in the country assists the military with the education, prevention, treatment and care of HIV/AIDS among its personnel, the U.S. Embassy announced Monday.
Therefore, Military Hospital 103 of the People's Army of Viet Nam and the Military Institute for Hygiene and Epidemiology in Ha Noi have a full array of antiretroviral therapy (ARV) programs and a complete range of related laboratory services, the American Embassy said.
Military Hospital 17 in Da Nang and Military Hospital 121 in Can Tho are being outfitted with laboratory equipment for the diagnosis and treatment of HIV/AIDS. Next month, the ARV program at Military Hospital 175 in Ho Chi Minh City is expected to begin services, according to the embassy.
The embassy said PEPFAR was assisting more than 1 million people in 15 focus countries worldwide. Combined PEPFAR programs in Viet Nam total US$88 million this year.