In a ceremony at the Ministry of Health on Wednesday, Ambassador Michael W. Marine presented the 2007 Country Operational Plan (COP) to Health Minister Tran Thi Trung Chien in support of Viet Nam's efforts to combat HIV/AIDS and provide care and treatment for those suffering from the disease.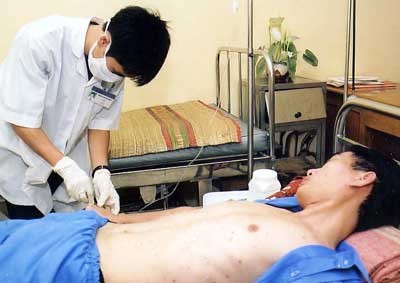 Medical worker takes care of an HIV/AIDS patient
In his speech, Ambassador Marine renewed the United State's commitment to work with Viet Nam to fight the disease, "Our cooperative effort to battle this terrible disease and its many consequences has strengthened our relationship and enhanced the level of cooperation in various fields between the two countries", he said. 
With a budget of US$59 million, the 2007 annual plan describes the strategy developed by the Ministry of Health and other agencies to provide support for priority programs of action within the Viet Nam National Strategy for HIV and AIDS Control. 
To strengthen HIV prevention programs, the Office of the Global AIDS Coordinator has also approved more than $1,000,000 in additional funds for 2007.
The extra money will be used to support various agencies in their efforts to expand outreach programs, train more Vietnamese drug abuse counselors and support programs for youth.
In related news, Prime Minister Nguyen Tan Dung signed a decision on Monday to establish a fund to provide care and treatment for people suffering from HIV/AIDS and support for their families. The fund, which will be financed by the State budget and augmented by private donations, will be overseen by the Ministries of Finance and Health.