U.S. Ambassador to Vietnam David B. Shear this morning cut the ribbon on an exhibition titled "Using Safe, Rational and Effective Medicine," at the Vietnam National Library promoting safe medicines.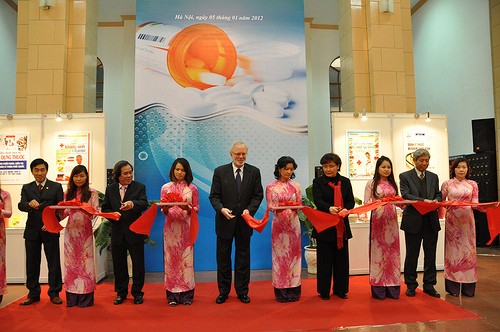 U.S. Ambassador David Shear opens safe medicine exhibition in Hanoi
The exhibition aims to raise awareness among the medical community and general public about the dangers of counterfeit and sub-standard pharmaceutical products that can turn a treatable disease into a fatal one.

The U.S. Embassy contributed $5,000 to fund the exhibition, as part of its cooperation with Vietnam to strengthen health systems and encourage the use of safe medicines.

The United States is also providing $6,000 to fund a project with Vietnam's National Institute of Drug Quality Control for the creation of a website and posters promoting safe medicines. 
The website, www.thuocantoan.com.vn, is already live and the public awareness posters will be distributed to the Institute's many local branches across Vietnam in February.

The exhibition will run from January 5-12 and is free and open to the public.