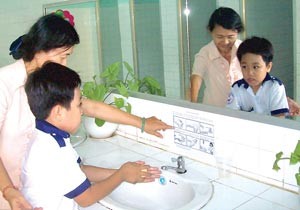 Doctors say washing the hands properly can prevent A/H1N1 flu
The US Government has provided funding and technical assistance to support Vietnam's training of officials specialized in preventing diseases like the pandemic A/H1N1 flu and avian influenza, the American Embassy in Hanoi announced Friday.
Vietnam's Ministry of Health this week launched a two-year field epidemiology training program in collaboration with the World Health Organization with funding from the US Agency for International Development (USAID) and the Avian and Human Pandemic Influenza Joint Government/United Nations System Program. The U.S. Centers for Disease Control (CDC) provided technical assistance.
The American Embassy said since 2005, the US Government has provided more than US$33.5 million to support Vietnam's programs to combat avian influenza.