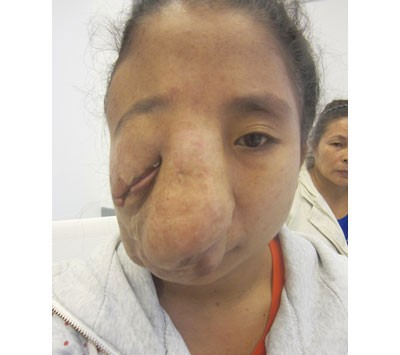 Thien An had a huge tumor on his face (Photo: SGGP)
Renowned American plastic surgeon McKay McKinnon and experts from FV Hospital and Medicine University Hospital were successful in removing life-threatening tumors from the faces of two boys in operations that lasted more than nine hours.
The US surgeon had come to Vietnam last year to remove a 90-kilogram tumor from the leg of Nguyen Duy Hai from the highland province of Lam Dong.


This time he was successful in removing the tumors of 18-year-old Nguyen Hoang Thien An hailing from the southern Ba Ria-Vung Tau Province and 31-year-old Le Hoang Em from the Mekong Delta province of Dong Thap.
The operations took place at the Ho Chi Minh France-Vietnam Hospital (FV).
At the age of seven, Nguyen Hoang Thien An had a small tumor on the right side of his face which disfigured his nose, right eye and lips.
In 2007 when he was 12, his poor family saved money for a surgery in the General Hospital in Tien Giang Province in the Mekong Delta.
However the tumor re-occurred after the surgery. In 2008, the family then brought him to the Tumor Hospital in HCMC to undergo another operation. 
Australia's Charity Organization Vovicare and the Canada-based Virtual Medical Miracle Network connected the family to donors and doctors.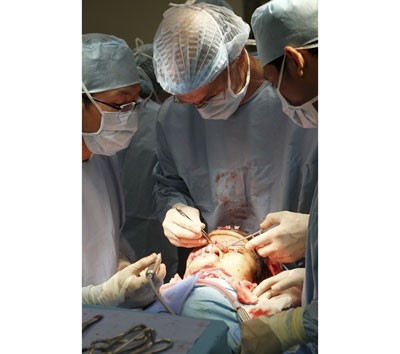 Doctors performing a surgery on Thien An (Photo: SGGP)
On July 2, 2013, US renowned surgeon McKay McKinnon examined An and decided to perform an operation at FV Hospital.  On July 30, after a nine hour surgery, An was finally relieved of his face tumor.
Le Hoang Em's face was covered with a huge tumor that also covered his entire right ear and disfigured part of his mouth since birth.
As his family could not afford surgery, the Charity organization Vinacapital Foundation connected his family to FV Hospital where tests were conducted before the operation performed by the US surgeon.

Doctors were successful in removing the tumor after a ten hour operation.