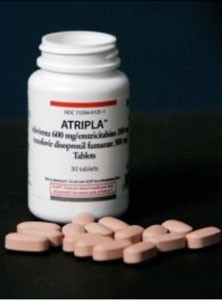 ATRIPLA has high price but is provided under the assistance program of the US for Viet Nam. (Photo: T.C)
The AIDS drug grant program for 15 countries including Viet Nam will provide a kind of medical treatment in which patients only need to take one tablet a day.
The drug is named ATRIPLA and has just been approved by the Food & Drug Administration (FDA).
ATRIPLA is produced in the collaboration of 3 pharmaceutical companies: Bristol Myers Squibb, Gilead Sciences and Merck. ATRIPLA consists of 3 active substances - Efavirenz 600mg (SUSTIVA), Emtricitabine 200mg (EMTRIVA) and Tenofovir Disoproxil Fumarate 300mg (VIREAD) – combined in one tablet.
This is the first the time in 25 years that there has been a collaboration among pharmaceutical companies in the fight against HIV/AIDS.
The price of the drug is still high, estimated at US$ 1,150.88 for a month of treatment (30 tablets), and no special price has been made for developing countries.
However, FDA says that ATRIPLA will be distributed to markets outside the US under the US international programs of AIDS fighting assistance for 15 developing countries including Botswana, Ethiopia, Guyana, Haiti, Ivory Coast, Kenya, Mozambique, Namibia, Nigeria, Rwanda, South Africa, Tanzania, Uganda, Zambia and Viet Nam. 
Related Articles:
ASEAN Hails Partnership Deal with US
New Laws On Cinema, Real Estate, AIDS
U.S. Aids Viet Nam US$500,000 for HIV Prevention
ADB Pledges US$20 Million for HIV/AIDS Prevention Project in Viet Nam