No new influenza A (H1N1) swine flu patients have been reported in Vietnam for more than one month, but the Vietnamese Ministry of Health is still planning to implement a vaccination plan for vulnerable people including medical workers and pregnant women.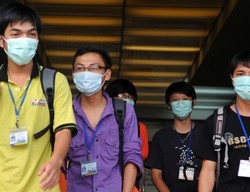 The H1N1 flu emerges  in April, 2009 but has  showed a decrease while  WHO still asks countries to stay vigilant against the pandemic
Deputy Director of the Department of Preventive Medicine Nguyen Van Binh said only one person in the central province of Quang Tri had caught the swine flu last month, and that patient has been discharged from the hospital.
But he said the World Health Organization (WHO) had asked countries to stay vigilant against the pandemic despite few new ports of new cases of the disease in several nations around the world. Vietnam is currently awaiting vaccines from WHO to implement the program.
World Health Organization (WHO) Chief Representative in Viet Nam Dr Jean-Marc Olive has also rejected claims that the WHO had exaggerated the dangers of the H1N1 outbreak, which emerged in April last year.
He said WHO's warnings of the pandemic were based on scientific evidence, adding that outbreaks of the disease widely known as swine flu were still considered to be at the phase 6 level on the WHO's pandemic scale.
While the number of cases of swine flu has reduced, other fatal epidemics have increased, he said.
Health experts in Vietnam have also been fretting about cholera, which infected hundreds of people in the Northern provinces in 2008 and 2009. The severe bacterial infection has been reported in several other provinces and cities this year, including Ho Chi Minh City and Hanoi.
The occurrence of cholera in many parts of the country has been difficult to oversee, experts said. Moreover, recent research has showed that the virulent vibrio cholera virus in Vietnam has mutated and is showing signs of transforming into more lethal forms.
Furthermore, acute diarrhea has killed six children in the northern Vietnamese province of Cao Bang since May 19, according to the provincial Preventive Health Center.
 
Some 140 people in Lung Man Village, which was the hardest hit area in Duc Hanh Commune, were infected with the disease, the center said. Duc Hanh is a mountainous commune with a majority ethnic Mong population.
The pandemic has revealed that district medical clinics are still too slow and weak to react to serious threats, experts have said.