The 5-in-1 vaccine, Quinvaxem, is suspected to cause the death of a 3-month-old baby, Tran Le Nguyen, in the health station of Ward 7 in Da Lat, Lam Dong Province on January 14.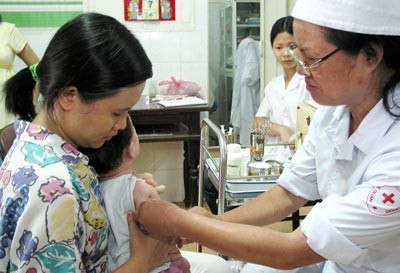 File photo for illustration purpose (Photo: SGGP)
Experts from Pasteur Institute and Children Hospital No.1 are investigating the quality of the vaccination and treatment procedures.

The Department of Health in Lam Dong Province has asked other clinics in the province to delay the use of the vaccine until further investigation, according to Head of Department Dong Sy Quang.

Nguyen was taken back to the station hours after receiving his vaccine due to abnormal bouts of crying. The station monitored his condition for an hour and released him back to the parents after his condition stabilized. 

The next day the boy stopped feeding and turned blue.  He was taken to Lam Dong Province General Hospital where he was pronounced dead.

The vaccine is meant to prevent five common and potentially fatal childhood diseases: diphtheria (D), tetanus (T), pertussis (P), hepatitis B (HepB), and haemophilus influenza type B (Hib).