Although smuggling of chickens from China is posing a serious threat to domestic livestock, it is rampant and unchecked in the frontier mountainous province of Lang Son and the northern province of Quang Ninh, with some agencies ignoring regulations and allowing free sale of such smuggled poultry.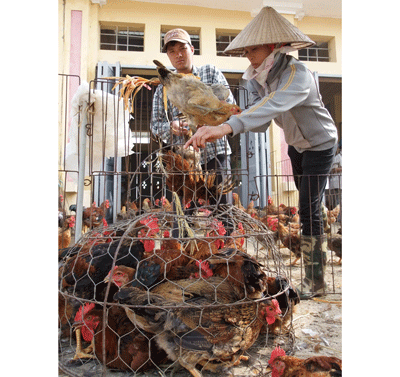 Smuggled chickens from China selling in Ha Vy Market in Hanoi, and explained as Vietnamese poultry (Photo: SGGP)
This has led to tens of tons of poultry from China selling openly in wholesale markets like Ha Vy and Dai Xuyen in Hanoi.
Anti-smuggling poultry agencies in Quang Ninh and Lang Son have justified their lax attitude to shortage of personnel and insufficiency of funds that make it impossible for them to seize all smuggled poultry.
Since October 2010, the People's Committee in Quang Ninh Province has had a policy to liquidate captured fowl, but since the volume of smuggled poultry is so high, the province does not have enough land or expenses to bury them.
Before 2010, tens of tons of smuggled chickens had been destroyed, but there was no land available for burying the dead fowl, said a border patrol soldier.
This policy can easily be misused and the country should tighten control over transportation of illegal chickens, said Bui Xuan Trinh from the government office. Trinh said that the Department of Market Management should send a proposal of special remuneration for anti-smuggling forces to the Ministry of Industry and Trade.
Agreeing with Trinh's point of view, Diep Kinh Tan, deputy minister of Agriculture and Rural Development, ordered the Department of Animal Health to closely cooperate with anti-smuggling forces in destroying illegally transported chicken consignments. Police forces should also join hands in monitoring smuggling.
Tan added that smuggling of unsafe chickens into the country will harm the domestic breeding sector and spread the deadly bird flu virus, which will then become difficult to contain.

Due to rampant and unchecked transportation of unsafe chickens from China into the country, the Prime Minister sent an urgent dispatch to provincial and municipal leaders asking them to strengthen supervision on smuggling, fake products and commercial frauds.
As per the PM's directive, chairmen of people's committees must coordinate with concerned agencies to discover and deal with illegal smuggling of goods, especially petroleum products, poultry and wild animals.
The ministries of Agriculture and Rural Development, and Health have been asked to step up monitoring of smuggled animal products and water-fowl.
Vietnam Customs have also requested anti-smuggling agencies to penalize illegal transportation of gold, foreign currency, petroleum, elephant ivory, rhino horns, minerals, poultry and poultry products.