Vietnamese Vice President Truong My Hoa spoke highly of the Orbis Flying Eye Hospital on Thursday and said its staff of visiting medical specialists had made a great contribution to Viet Nam's efforts to eliminate avoidable blindness and restore sight.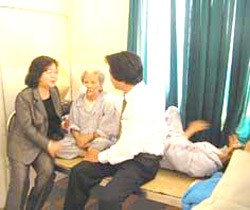 The vice president (L) meets the patient at the Da Nang Eye Hospital
On a visit to the specially outfitted plane that touched down in Da Nang on October 9 for its first-ever visit to Viet Nam, Ms. Hoa described it as a messenger of peace and international solidarity.
In partnership with the Vietnamese National Institute of Ophthalmology and Da Nang Eye Hospital, Orbis has conducted an intensive two-week training program to improve ophthalmic surgical techniques, nursing skills and equipment maintenance practices in Viet Nam.
The visiting ophthalmologists, nurses and biomedical engineers provided their Vietnamese colleagues from 21 provinces and cities with training and hands-on instruction.
In addition, 320 patients received eye checks, 53 of them underwent surgery and nine were treated with lasers.

Da Nang Hospital was given medical instruments worth US$12,000 by Orbis International, an international non-profit non-governmental organization.
Orbis Canada gave 1,000 pairs of glasses worth VND250 million to the patients, and Chairman Brian Leonard of Orbis Canada pledged to sponsor Viet Nam's campaign to prevent blindness in the visually impaired.
The Orbis Flying Eye Hospital is likely to return to Viet Nam in 2008.