Viet Nam's military medical teams are preparing a field hospital as part of the country's participation in UN peacekeeping missions.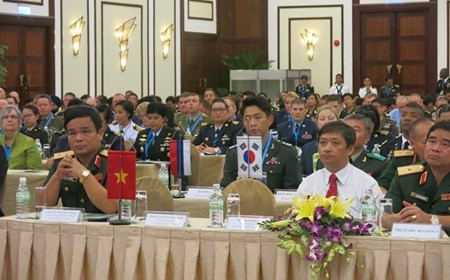 Viet Nam's military medical teams are preparing a field hospital as part of the country's participation in UN peacekeeping missions. — Photo laodong.com.vn
Major general Vu Quoc Binh, head of the Viet Nam Military Medical department under the Ministry of Defence, announced this at the opening of the Asia Pacific Military Health Exchange in Da Nang on Monday.
The exchanges allow scientists and experts working in the medical sector to share experience in the field, thus promoting cooperation in military health in particular and healthcare more broadly.
"Viet Nam military medical forces have integrated deeper with 30 countries in the region and the world in recent years," Binh said.
"We participated in the ASEAN Defence Ministers' Meeting (ADMM) in Malaysia in April, field training on humanitarian activities in disaster in Brunei in 2012; a joint exercise in Indonesia in 2013 and malaria prevention with Australia," he said.
Stronger co-operation
Binh said the activities aimed to contribute to peace in the region and the world by using stronger co-operation in dealing with complicated and unstable situations, including pandemics. He said he hoped Viet Nam would learn from the other nations at the health exchange.
Rear Admiral Colin Chinn, Command Surgeon, US Pacific Command, said the exchange was a significant opportunity that had taken two years to prepare.
He said the event would draw nations closer in sharing experiences and learning from nations in dealing with new challenges.
He added that it also marked the 20th anniversary of the normalisation of ties between the US and Viet Nam.
Lieutenant General Le Chiem, deputy chief of the General Staffs of the Viet Nam People's Army, said Viet Nam was a developing country and the Military Medical force often lacked money, equipment, technology and personnel training.
The exchange, which is co-hosted by the Viet Nam Military Medical Department and the headquarters of the US Pacific Command, has attracted 350 deputies from Australia, Bangladesh, Brunei, Cambodia, Fiji, India, Indonesia, Japan, Malaysia, the Maldives, Laos, Mongolia, Myanmar, Nepal, New Zealand, Papua New Guinea, the Philippines, South Korea, Singapore, Thailand, Tonga, the US and Viet Nam.
It is aimed at preventing and handling disasters and diseases and providing humanitarian assistance, especially related to global health security. Dozens of scientific reports will be presented, including 40 from Viet Nam.
The reports will focus on external and internal medicine, infections, disease prevention, community health-care, training military medical staff, traditional medicine and the application of advanced technology in healthcare.