Vietnamese authorities have pledged to ban all pharmacies failing to meet the World Health Organization's Good Pharmacy Practice (GPP) from selling prescription drugs by 2010.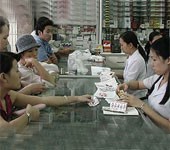 A typical drugstore in Viet Nam
At a recent conference in Ho Chi Minh City, deputy health minister Cao Minh Quang said by around 2010 or to be decided by local health departments depending on specific conditions, domestic pharmacies not complying with GPP will only be permitted to sell over-the-counter drugs.
According to him, the ministry has promised to assist GPP pharmacies in importing medicine, besides setting aside US$2.5-3 million to help them promote trademarks.
Viet Nam now has only four GPP-standard drug stores of a total 57,000 pharmacies: two in Ha Noi and two in HCMC.
Under GPP standards, pharmacies must sell medicine with clear origins, hire licensed pharmacists, and only sell prescription drugs on prescription, among other regulations governing storage and distribution procedures.
Although selling prescription drugs without a prescription is illegal in Viet Nam, over 99 percent of pharmacies do so, according to recent health statistics.
Phano 2, HCMC's first pharmaceutical store to meet GPP, said that during the first week applying the standard, it had to refuse 40 percent of customers for lacking a prescription, 75 percent of whom were very angry.
But Tran Huu Duc, director of Phano Company which owns the store said happily that many of them later came and apologized, even offered profuse thanks.
There are over 4,000 private pharmacies in HCMC, most of which are ill equipped and lack licensed pharmacists, according to another survey.