Associate Professor Le Nam, Director of the National Institute of Burns, says the institute has successfully produced fibroblast – a type of cell to help reproduce skin and quickly heal injuries.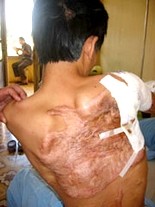 Seriously burned people
To produce fibroblast, doctors have to take a piece of skin of 1 square centimeter from the patient or another person and then culture it in a special medium.

After four weeks, the fibroblast is ready for transplant.

The new cells can be used to treat burns and other diseases including chronic ulcers, diabetic after-effects or injuries from radio-activity, Mr. Nam added.
Formerly, the cost of the new cells was too high for Vietnamese hospitals to import.