In the report 'Progress for Children: A Report Card on Nutrition' on 2 May 2006, the United Nations Children's Fund (UNICEF) has announced that only two regions, Latin America-Caribbean and  East Asia-Pacific, are on track to reach the Millennium Development Goal (MDG) target of reducing the number of undernourished children.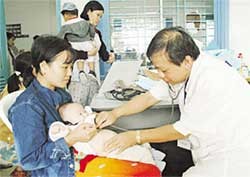 Vietnamese undernourished children are reduced
Viet Nam, China, Malaysia, Singapore and Indonesia are said to be on track to achieve the target. Viet Nam's annual reduction rate of undernourished children is ranked third after China and Malaysia in the Asia Pacific.
This impressive rate of improvement resulted in a sharp decrease in malnutrition among children under five, from 51.2 percent in 1985 to 25.2 percent in 2005.
There is a substantial gap, however, among regions in Viet Nam. For example, the proportion of underweight children in central highland province of Dac Nong is 35%, three times higher than that of Ho Chi Minh City.
Related link: