Vietnamese authorities are distributing free vaccines and spraying disinfectants to prevent cholera, bird flu and blue ear disease from recurring prior to the Lunar New Year (Tet) next month.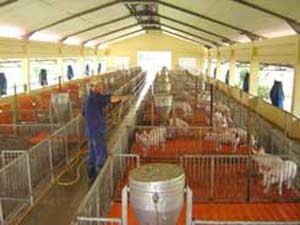 Antiseptics sprayed in a pig farm.
According to the Central Hygiene and Epidemiology Institute and the Ha Noi Health Department, health officials in the capital today opened 500 centers to provide free cholera vaccines to local inhabitants.  
Around 410,000 residents over 10 years old in Hoang Mai and Thanh Xuan Districts will be the first to be vaccinated.
Dr. Nguyen Tran Hien, Head of the Epidemiology Institute, said keeping good hygiene practices and abiding by food safety and hygiene regulations are among the best ways to avoid catching the disease.
Meanwhile, antiseptics have been sprayed all over the southern Mekong Delta since January 15 to prevent the comeback of bird flu and blue ear disease in poultry and cattle.
Approximately 1,000 liters of antiseptics were sprayed on 2 million square meters in Bac Lieu Province, with focus on local farms and slaughtering houses.
In Dong Hai District where blue ear disease has reemerged, local health officials also had all farms disinfected.