This is a good news for patients who have bone fractures and need to replace bones. Artificial bones made from biomedical glass-ceramic are used in transplants, replacing human bones in orthopedic surgeons and they prove to have the same durability as the original tissue.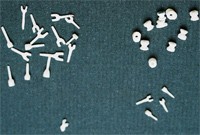 Artificial bones are used in dentistry (Photo:Anh Dung)
Biomedical glass-ceramic is better than traditional biomaterials such as titan, special alloy, carbon, and silicon. When transplanted into the body, biomedical glass-ceramic does not cause rejecting reactions, stimulation or biological disorder.
Particularly, this material is able to have biochemical bond with living cells, helping damaged cells regenerate and directly unite the surfaces of implanted objects
After successful experiments on animals, the researchers are now testing the method on humans in such hospitals as Bach Mai, the Central Otorhinolaryngology, the Central hospital for Oral and Maxillofacial Surgery.
The material is used for replacement of ear bones, jawbones and bones infected with ulcer. The experimental result shows no rejection to the new material. Patient recovered well and their wound healed quickly. There was a high percentage of functional recovery of the treated injuries.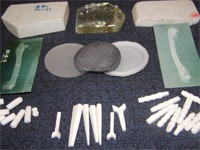 Biochemical glass-ceramic ( Photo:Anh Dung)
Since 1992, the OREC biomaterials laboratory has been researching tissue-engineered bone substitutes. These include calcium phosphates, porous polylactic acid, tantalum and titanium. These materials eliminate or reduce the need to harvest natural bone, thus avoiding an additional surgery, associated costs and certain surgical complications
A bone graft is a piece of bone transplanted to another part of the skeleton where it is needed to improve function or strengthen the structure of the area.