Children will be given inactivated and injectable polio vaccine shots in October besides the existing oral vaccine as part of the country's efforts to switch to the former, according to the National Institute of Hygiene and Epidemiology.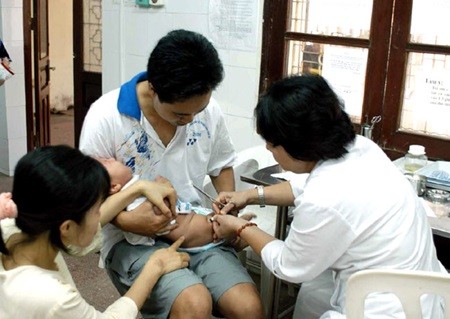 A baby receives the 5-in-1 vaccination against pertussis, tetanus, polio, diphtheria and bacterial infections in Ha Noi. Children will be given injectable polio vaccine shots besides the existing oral vaccine from October. — VNA/VNS Photo Huu Oai
The World Health Organisation called on countries last March to introduce IPV, saying moving away from the oral vaccine to IPV is crucial to ensure a polio-free world by 2018.
Dr Truong Huu Khanh, head of the HCM City Paediatrics Hospital No.1's neurology and infectious diseases ward, told Viet Nam News that though the oral vaccine had helped many countries including Viet Nam eliminate polio, there was still a risk of outbreaks.
There was a risk of wild polio viruses being brought to the country by foreign visitors or Vietnamese travelling abroad and they could spread if immunisation in the community was not strong, he warned.
The IPV and more frequent polio vaccination campaigns would improve that immunity, he said.
Moreover, the IPV could easily be combined with other vaccines into one vaccine for children, a popular method in many countries, he added.
According to WHO, 125 countries including Viet Nam use only oral polio vaccine, which was first introduced in 1961 and consists of a mixture of three live attenuated poliovirus serotypes (Sabin types 1, 2 and 3), selected for their lower neuroviurlence and reduced transmissibility.
The IPV was first formulated in 1959. An addendum was added in 2003, which specifies steps to be taken to minimise the risk of reintroducing wild polio viruses from a vaccine manufacturing facility into the community after global certification of polio eradication.
Dr Shin Young-soo, WHO's regional director for the Western Pacific, said UNICEF announced that the price of the IPV would be reduced for some low- and middle-income countries as well as other eligible countries.
"More than 21 million children in the region will benefit from the introduction of the vaccine. This will help us not only maintain our region's polio-free status, but also contribute to worldwide eradication by 2018."
The Global Alliance for Vaccine Immunisation will support IPV introduction in Viet Nam.