National Institute of Hygiene and Epidemiology has applied with the Science Council for approval and permission for trial of H5N1 vaccine on human after experiments on animal have produced positive results, said an official from Health Ministry on May 23.
If approved by the council, they will carry out the experiment in August, 2006.
The trials will first be performed on about 30 people. After that, it will expand to other 300 volunteers. The Institute hopes to produce good results. The experiment will last for at least 12 months.
Experiments on animal have presented positive results.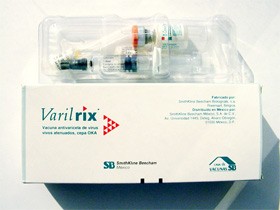 Vaccine Varilrix
On the same day, Ho Chi Minh Preventive Medicine Center has ordered a halt on using two kinds of vaccines which have different serial numbers printed on the jars and on paper packages.
They are Varilrix to prevent chicken-pox and Hiberix for meningitis prevention; both are produced by GlaxoSmithKline, England.