The number of cancer patients has increased steadily

Vice Chairman of Viet Nam Preventing Cancer Association (PCA) Dr. Nguyen Ba Duc said he and his partners have just carried out a research on the number of cancer patients in some regions.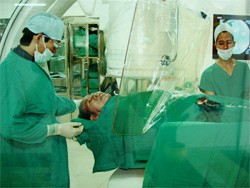 Doctors put the patient through tumour scan ( photo: Hong Nhu)
The research was conducted from 2001 to 2004 on patients in five cities and provinces such as Ha Noi, the northern province of Hai Phong, Thai Nguyen, the central province of Thua Thien – Hue, the southern province of Can Tho. It has found nearly 33,000 new cases of cancer, of whom male patients make up 50 %.
Cancer affects a large number of people, especially those over 40 years of age in both genders, of which men usually get bronchopneumonia, liver and stomach cancers.
Liver cancer usually increases with those of 40 years of age, and those from 65 to 69 are at the highest risk with the ratio of 91 cases out of every 100,000 people.
The number of stomach and liver cancer patients in Vietnam is fairly high in the world.  Each year Viet Nam has roughly 7,000 new cases of liver cancers; over 10,000 gastric cancers; 10,300 bronchial tube cancers; 2,500 blood cancers and more than 7,000 breast cancers.
Thyroid gland cancer patient figure tend to increase because of iodine deficiency and another factors.
Cervical cancer is the most common cause of women's deaths in Viet Nam. A majority of women get cervical cancer because of infection with Human Papilloma Virus or HPV.
Recently, radioactivity in cancer diagnosis and treatment has given some hope to patients. Viet Nam has 20 nuclear clinical units for diagnosis of diseases, especially cancer.
Dr. Mai Trong Khoa, head of the Nuclear Medicine and Tumor Treatment Ward of Bach Mai General Hospital said from 2002 to 2005 the nuclear medicine department of the hospital treated 256 thyroid gland patients, achieving satisfactory results.
Nuclear medical branches, however, have developed unequally. Viet Nam is going to set up two nuclear medicine centers for cancer treatment in Ha Noi and Ho Chi Minh City.
Viet Nam is going to carry out cervical cancer vaccination
While patients are worried about their illness and health experts are trying to tackle this disease, scientists and pharmaceutical companies in the world have been continuously researching to produce cancer vaccines. For example, Cell Genesys firm is experimenting the new lung vaccine Gvaxr on patients with promising results.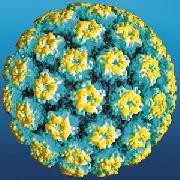 HPV vaccine
US scientists are completing the first stage of their experiment of brain tumour vaccines.
Especially, there is a bright prospect for cervical cancer patients because a new cervical vaccine has been produced by Merck& Co. and GlaxoSmithKline. It has been tested and approved by the US Food and Drug Administration (FDA) in early 2006.
This vaccine is helpful for teenagers, especially girls who have not reached the age of puberty, to prevent abominable cancer. This kind of vaccine is being tested in Viet Nam and expected to be available soon.
Deputy Director of Preventive Medicine Department under the Ministry of Health Nguyen Van Binh said Program for Appropriate Technology in Health (PATH) of the US in Viet Nam has asked Ministry of Health to allow the conduction of a pilot project on HPV vaccination for 9,000 female of 14-15 years of age.
The information provided by this organization showed that HPV is caused by a common virus which infects over 50 % adults. Moreover, 99.7% cervical cases are related to HPV. It normally takes HPV 20 – 30 years to develop into cervical cancer. Upon these relations, HPV vaccine has been researched and tested by another US drug firm beside Merck& Co. and GlaxoSmithKline.
Experiments on female patients of 15 -26 years of age have been performed in the US, Canada, Australia, Hong Kong, Thailand, the Philippines, and Finland, which have produced good result. PATH, therefore, suggested conducting experiments in Viet Nam.
The importance of the suggestion has prompted the Ministry of Health to ask Preventive Medicine Department to get ideas from related departments and bureaus in order to implement the project. Up to now, relevant departments, bureaus and institutes have approved the regulation of a pilot project. However, what remain to be seen are the drug's quality and efficiency.
Some units have also urged PATH organization Viet Nam to complete the formalities (license, quality standard certificates and circulation permit). In addition, PATH should coordinate with other capable organizations to produce clinical test documents in accordance with the Vietnamese current laws.
In late 2006, HPV vaccination experiment will be conducted in Viet Nam.