In spite of recent incidents surrounding the Fuenzalida vaccination produced by Vaccine and Biomedical Product Company No. 1, Viet Nam will only stop the use of unsafe rabies Fuenzalida vaccine by the end of 2008.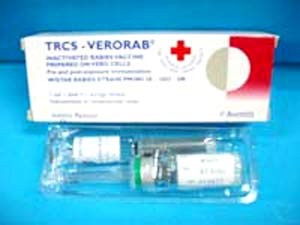 Safer France "Verorab"  vaccine is suggested to replace Fuenzalida
Viet Nam has used Fuenzalida vaccine, a suckling-mouse- brain vaccine, for the past three decades and with it gained some achievements in fighting rabies, according to Dr. Nguyen Van BInh, deputy head of the Preventive Health Department under the Ministry of Health(MoH).
He added that the MoH must therefore consider stopping the use of the vaccine and build up a detailed and careful roadmap to meet demand. Viet Nam must stop the use of the dodgy rabies vaccine by the end of 2008.
The National Institute for Epidemics and Hygiene asked medical clinics to keep a close surveillance on men after being inoculated with the vaccine.
The institute called for an alternative, safer and more expensive vaccine, with the government paying a part of the cost of vaccinating the poor and children below 15.
Statistically, eight out of 400,000 Fuenzalida-vaccinated Vietnamese last year suffered serious complications of encephalitis, paralyzed limbs.