Chief of the fight against blindness in Viet Nam underlined the urgent need to promptly work out a plan to prevent and combat blindness until 2009 and afterward.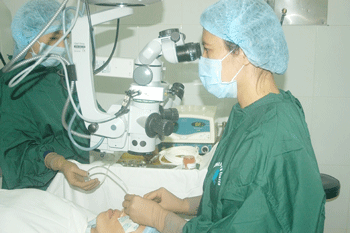 An eye surgery is carried out at An Sinh Hospital(Photo:U.P)
Deputy Health Minister Dr. Nguyen Thi Xuyen, who is also dubbed as head of the steering committee for national blindness prevention program, emphasized the necessity at a symposium on the fight against blindness and poor visions in Northern provinces held in Ha Noi on May 25.
Building an extended ophthalmologic network from grassroots to central levels is a must to realize that goal, Dr. Xuyen said.
Seminar participants, including those from the US non-governmental Atlantic Philanthropies organization, discussed the situation of blindness in their localities, dangers stemmed from eye diseases, as well as strategies on prevention and combat blindness to support the making of the country's anti-blindness plan.
Viet Nam currently has 400,000 blind people, 200,000 others with blind in one eye and more than 1 million others with poor sight.