The Ministry of Health is keeping a close watch on 83 airline passengers who came from Ebola-hit regions recently, affirmed Tran Dac Phu, head of the ministry's Preventive Medicine Department on August 22.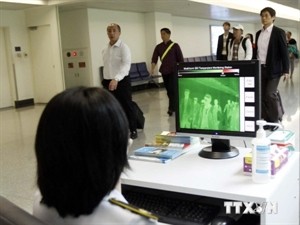 Illustrative image (Source: VNA)
Seventy-nine people, including 20 Vietnamese from Liberia and 59 others from Nigeria – the two West African countries being affected by the virus - had to declare their health condition at Tan Son Nhat International Airport in Ho Chi Minh City between August 11 and 20.
More than half of them are living in the city while the remaining are scattering in Buon Ma Thuot city, Dong Nai, Lam Dong, Phu Yen, Quang Tri, Thai Binh and Thanh Hoa provinces.
Earlier, two Ebola suspect Nigerians arriving in the city by plane on August 19, had been discharged from the Tropical Diseases Hospital but remain under community surveillance for three weeks from the date they left the affected area on August 18, Phu said at an online meeting of the Steering Committee for Epidemic Control and Prevention in Hanoi.
The male passengers were isolated at the municipal Tropical Diseases Hospital after being detected to run a slight fever of 37.5-38 degrees Celsius. However after 24-hour watch by medical staff, they were in stable conditions and showed no typical symptoms related to the virus.
Three Nigerian students and one Indian teacher coming to Vietnam from Nigeria in the recent 21 days are being closely monitored although they showed they are in good shape.
Phu confirmed that the health sector is adopting various communication channels to keep track of the target travelers, including mobile phones, emails, and website in both English and Vietnamese.
The ministry has issued a number of documents serving the surveillance, prevention and treatment of the outbreak as well as opened training courses in Hanoi and Ho Chi Minh City for health workers nationwide; deployed mobile disinfecting systems at Noi Bai and Tan Son Nhat international airports; and organised a drill in response to the deadly virus at Tan Son Nhat airport.
At the meeting, Deputy Minister of Health Nguyen Thanh Long stated that the health sector has been working closely with international organisations to keep updated with the latest developments of the disease as there is a possibility that it will enter Vietnam .
He asked officials at international border gates, especially air terminals, to screen all passengers on board international flights by remote body temperature measurement machines to soon detect any suspect case for swift isolation.
Meanwhile, health declaration is a must for all passengers from the four West African countries of Guinea , Liberia , Sierra Leone and Nigeria – where at least 1,350 lives have been lost to the virus, he stressed.
The health ministry must ensure sufficient medicine, equipment and human resources so as to promptly respond to the killer disease, he added.
No cure or vaccine is currently available for Ebola, which is spread by close contact with bodily fluids, meaning patients must be isolated, according the World Health Organisation.
Early Ebola symptoms include sudden onset of fever, weakness, muscle pain, headaches and a sore throat. They later progress to vomiting, diarrhoea, impaired kidney and liver function – and sometimes internal and external bleeding.
Vietnam has so far reported no infection case of the virus