After the tragic incident of three newborn babies dying after a routine vaccination in Huong Hoa District in the central province of Quang Tri on July 21, the provincial Department of Health decided to discontinue two vaccine lots in Vietnam.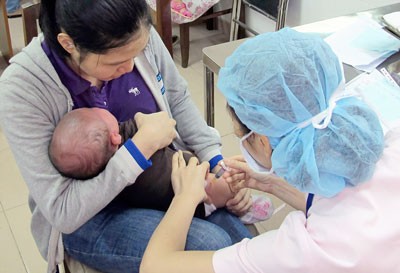 The filed photo shows a nurse vaccinating a baby. (Photo : SGGP)
Health Minister Nguyen Thi Kim Tien on July 21 sent her condolences to the dead babies' families. She also ordered vaccine experts to arrive in the province to investigate the cause of death.
Health representatives on July 21 visited families of the dead babies and gave each VND8 million (US$ 377). Mothers of these babies will receive free care at the hospital in future.
Nguyen Tran Hien, Chairman of the National Expanded Program, has advised all parents to keep calm and continue to take their children to medical clinics for vaccination.
Tran Van Thanh, Director of the Department of Health in Quang Tri Province, said medical workers are verifying the cause of the deaths but accurate conclusion is awaited.
Initial investigation by local medical workers shows the babies suffered from anaphylactic shocks, said Nguyen Duc Chinh, Deputy Chairman of the People's Committee in Quang Tri Province.
As the vaccines were kept in right conditions and procedures and Nurse Nguyen Thi Thuan, who has over 20 years experience in maternity and immunization, administered the shots to the three babies, the incident may have been caused by other reasons.
Despite the incident, implementation of the Hepatitis B vaccine will still be administered in Ho Chi Minh City. Dr. Nguyen Minh Quan, director of the hospital in Thu Duc District said every day around ten neonates are given vaccine shots for Hepatitis B. From July 20 to 21, medical workers have administered vaccine shots to ten newborn babies and their health condition is stable.
Ho Chi Minh City has not recorded any incident after vaccination for years though medical units in the City administer around 10,000 vaccine shots to babies every month.
Experts say after routine vaccination for Hepatitis B, five percent of neonates may see swellings, while six percent may experience slight fever and allergic reactions. Parents should ask medical workers to examine the baby before and after vaccination, to quickly act against any side-effects.
Related article:
Three newborn babies die after routine vaccination