Based on information, the Vietnam Food Administration on October 14 asked the National Institute for Food Control to test all Aptamil products from the UK for aluminum content, which is detrimental for health of babies.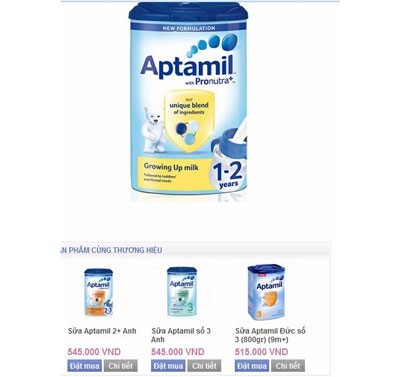 Aptamil is sold in websites in Vietnam
In a recent study by Keele University, published in the journal BMC Pediatrics, 30 types of popular formulas sold in the UK were tested.
Top formula baby milk brands including Aptamil Toddler Growing Up, Sma Toddler, Cow and Gate First and Hipp Organic, all contained levels of aluminum which were too high.

Both ready-to-drink and powdered varieties were contaminated with same concentration of aluminum.

Vietnam Food Administration has been quick to contact the Food Standards Agency and the European Food Safety Authority over the matter yet both agencies have not confirmed their findings yet.

According to the Codex Alimentarius Commission, there is no adequate criterion upon which to base a safety level for aluminum in infant formulas.

Therefore the administration has conducted an independent testing.