The Department of Food Hygiene and Safety (DFS) has received not any warning from the US drug regulator or World Health Organization about 15 brands of powdered infant formula made in the US containing toxic substances, said its chief on April 6 in Hanoi .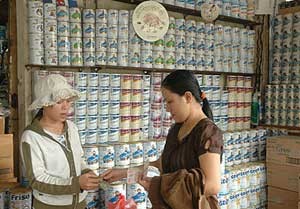 Baby formula imported from the US are sold in Vietnam marrket.
But Dr. Nguyen Cong Khan said he did read about some infant formula containing trace levels of a rocket fuel ingredient on the Internet.
The Centers for Disease Control and Prevention, US Department of Health admitted recently that 15 products have been found to contain chemicals used to produce ballistic missiles and rockets.
The announcement did not mention brand names but said merely 15 infant formula brands contain Kclo3, Naclo3, Mg(clo3)2 , notorious substances used widely by US infant-formula makers until 2000. The chemicals were found to damage thyroid function, and thus children's brains.
The Ministries of Health and Industry and Trade and Customs would test milk products for infants the imported from the US, Dr. Khan said.
His Department too would test them for contamination, including gunpowder, he said, assuring Vietnam has the capability to detect any such dangerous substance.
He said the contamination in the US-made products could be happening during the packing because infant-formula makers have no reason to add gunpowder, a mixture of sulfur, charcoal and potassium nitrate, KNO3.