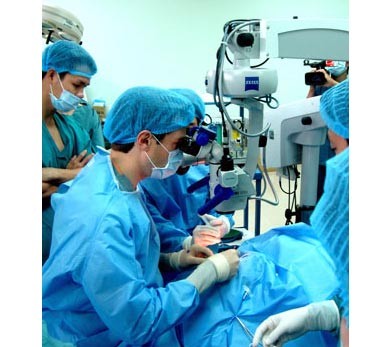 Foreign ophthalmologists perform a surgery on a patient with vision problems (Photo: SGGP)
In a meeting held in Ho Chi Minh City on November 24, American, Indian and Vietnamese ophthalmologists concluded that as many as 300,000 people in Vietnam suffered from blindness each year from eye diseases and lack of access to cornea transplants.
Thousands of people each year are diagnosed with almost 15,000 eye diseases and thousands suffer from blindness as they lack access to any facilities or means to have cornea transplants.
The only treatment for blindness is cornea transplant. Currently in Vietnam, cornea transplants are dependent on donations or support.
However, deeply ingrained traditional practices are an impediment in receiving a cornea transplant among Vietnamese. Family members want to see their loved ones as a complete person even when they pass away.
On this occasion, foreign ophthalmologists performed 16 surgeries on 30 patients with vision problems in order to transfer new cornea transplant methodologies to their Vietnamese counterparts.
The US non-government organization Sight Life sponsored the operations and donated 18 human corneas to Vietnamese eye doctors for practicing instead of cornea of pigs and goats as usual.