Vietnam must do more to protect consumers from toxic fruits and vegetables imported through land border gates, after many recent discoveries of fruits from China being dangerous for human health, said a representative from the Institute of Policy and Strategy for Agriculture and Rural Development.
Duong Ngoc Thi, vice director of the Institute for Policy and Strategy for Agriculture and Rural Development, called for more specific regulations to be issued to tightly control the quality of imported produce, at a meeting in Hanoi yesterday, October 12.
The seminar titled "How to control quality of imported fruits and foods" was jointly held by the Institute of Policy and Strategy for Agriculture and Rural Development under the Ministry and the Vietnam Standards and Consumers Association.
The vice director raised the issue that while big border gates were often deserted, small border gates were commonly busy. He suggested that evading import tax payments was the reason. He said, "This is an issue and the ministry is compiling a new circular to be published in the second quarter of 2013, to clearly regulate which border gates are to be permitted to import fruit and vegetables."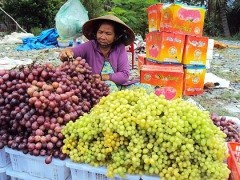 Fruit imported from China is displayed for sales at cheap prices along national highways in the Mekong Delta of VietnamPhoto: Tuoi Tre
He said that while Vietnamese fruits and vegetables were strictly checked before export, there was no safeguard for the same type of goods coming into the country.
Nguyen Van Hoi, deputy head of the Ministry of Industry and Trade's Mountainous Trade Department, confirmed that fruits and vegetables were allowed to be imported through all of the country's land border gates.
"We currently have no specific regulations to control food safety and hygiene for fruits and vegetables imported from China, Cambodia, and Laos", he said.
"Produce is often divided into small consignments in order to be continuously imported from China into Vietnam through unofficial channels everyday," he added.
He also said another major problem was that when goods come through the border gates it was hard for customs staff to test the quality of all.
"Samples also take up to seven days to be sent to Hanoi for testing, and customs staff cannot hold trucks carrying the goods for a long time due to resultant jams at border gates," he said.
Meanwhile, the Ministry of Agriculture and Rural Development's Plant Protection Department blamed "a great shortage of both facilities and human resources to check food safety and hygiene of imported farm produce."
The report revealed that detection equipment can only identify around 300 unsafe chemicals while there are believed to be more than 1,000. Complicating matters even further, the scanner can only identify a maximum of 50 chemicals at any one time. One batch of fruits and vegetables requires up to six scans to fully check for the 300 toxic chemicals."
Recently public anger and fear over the issue has started to grow. A recent Vietnam Standards and Consumers Association survey of 1,200 people in six provinces shows that 95 percent say they are very concerned about food safety and hygiene. They ranked fruits and vegetables as the most dangerous type of imported food.
The trade in fruits and vegetables is lucrative, with the import turnover from China via land border gates estimated to have reached around US$200 million in 2011. This figure is forecast to be the same again this year.