Vietnam needs to store at least five million doses of H1N1 vaccine to protect high-risk groups like children, old people, and health workers, the Ministry of Health said.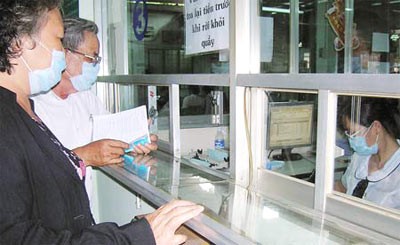 Patients and staff at HCMC's Nhan Dan 115 Hospital wear facemasks as a precaution against contracting swine flu which is sweeping across the country (Photo: SGGP)
For the time being, the country can import semi-finished vaccines and complete production to lower cost since some domestic vaccine makers have state-of-the-art production lines.
 
Some countries have begun to produce A/H1N1 vaccines which are expected to be available in September.
 
At a meeting of the National Steering Committee on Human Influenza Prevention on August 5, Dr.Nguyen Tran Hien, head of the National Institute of Hygiene and Epidemiology, said following a recent study, the World Health Organization announced early this week that the H1N1 virus in Vietnam has not mutated  or developed resistance to the vaccine.
 
The use of Tamiflu to treat A/H1N1 patients remains effective, Deputy Minister of Health Trinh Quan Huan said, calling for better attention of patients to prevent future fatalities. One person had died of the flu so far in Vietnam.

The director of the National Infectious and Tropical Diseases Institute in Hanoi, Nguyen Van Kinh, said his hospital receives 300-350 people every day asking to be tested for the H1N1 virus, a number it is stretched hard to handle.

WHO has given Vietnam 500 testing kits that provide the result in 15 minutes but more kits are needed since the demand is rising.
 
Mr.Huan informed delegates at the meeting that the super flu is rapidly spreading nationwide.
The flu threatens to spread in the community if supervisory agencies are not vigilant, he warned, urging them to detect and isolate patients in a timely manner.
 
He said though many countries have begun to focus on treatment instead of testing, tests are essential in Vietnam because of the wide spread of the epidemic.

Nine more cases of the flu were confirmed in the country on August 5, taking the total number to 1,004, including one death, the ministry said.
Of the number, 588 have been discharged from hospitals, while the 415 others are undergoing treatment and are in stable condition.
The super flu has hit 193,574 people in 168 countries and territories, killing 1,362.