The World Health Organization has categorized the swine flu epidemic sweeping Mexico and the US as moving into phase 4, meaning the virus is being transmitted between humans, the Department of Preventive Medicine and Environment said.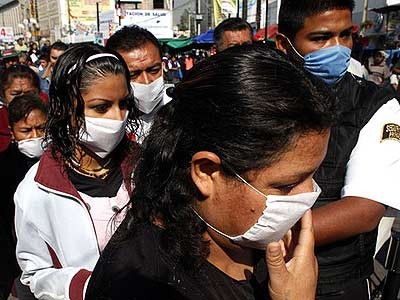 In Mexico (above) and the US, the swine flu alert has reached level 4, as categorized by the WHO (Photo: AP)
At a meeting held by the Ministry of Health on April 28 to discuss prevention of the epidemic, Dr Nguyen Huy Nga, the Department's director, said all countries, including Vietnam, have to take more proactive measures.
When an epidemic is in phase 4, countries can apply strong measures like quarantine, limiting travel, and ordering public areas to close down temporarily.
Vietnam would set up more diagnostic laboratories at the National Institute of Hygiene and Epidemiology and strengthen surveillance of people entering the country, he said.
WHO has instructed Vietnam on treating H1N1 and is set to send new samples of the H1N1 virus to conduct tests and map it, Dr Nga said.
Associate Professor Dr Nguyen Tran Hien, the head of the epidemiology institute, said it can soon test for swine flu by decoding the virus' genes.
200 back from US, Mexico


The Ho Chi Minh City Department of Health has asked healthcare units to have enough staff and equipment on standby. It has delivered Tamiflu medicine to them and mobilized 30,000 health mufflers to supply to people.

Health authorities also checked for the epidemic at four spots with in and outside the city. One thousand doctors and medical workers are being trained to handle a swine flu outbreak. Schools and factories have been placed on notice they could be used as field hospitals if necessary.

Children Hospital Nos 1 and 2, the Hospital for Tropical Diseases, and Pham Ngoc Thach Hospital have 500 beds on the ready for swine flu patients.
Dr Nga revealed that prior to WHO's warning about the swine flu epidemic, around 200 people came back from the US and 10 from Mexico.
Health agencies do not know if any of them carried the virus into Vietnam, he said. The Ministry of Health has to work with the police to locate these people, he said.
The Vietnamese embassy in Mexico said no Vietnamese national living in that country has contracted disease.
Minister of Health Nguyen Quoc Trieu ordered his ministry's epidemic supervision sub-committee to closely coordinate with WHO and the US' Centers for Disease Control and Prevention to update the epidemic situation on a daily basis.