The Vietnamese Ministry of Health has awarded the insignia 'For the People's Health' to Dr. Nicole Smith, epidemiologist from the World Health Organization (WHO) in Vietnam.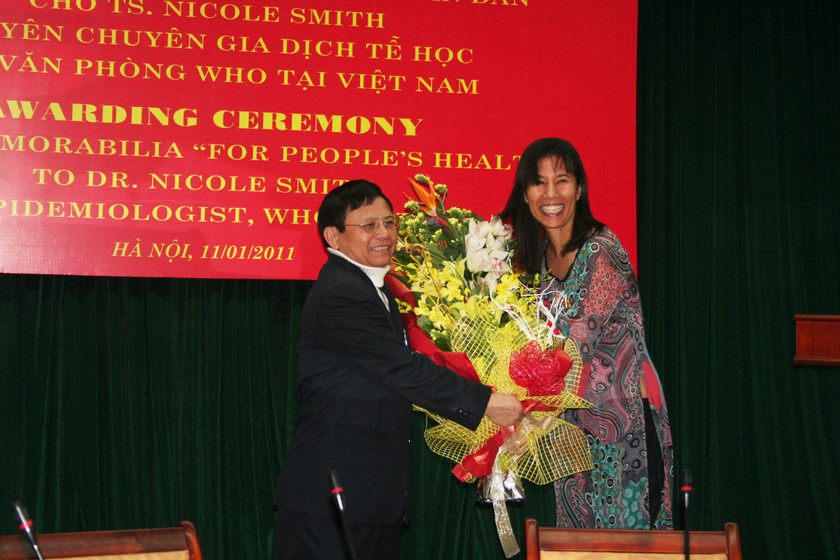 Mr. Trinh Quan Huan congratulates Dr. Nicole Smith at the award ceremony (Photo: Courtesy of WHO)
Speaking at the award ceremony, which was held on January 11 in Hanoi, Deputy Health Minister Trinh Quan Huan said, "This is the most notable award that the Ministry of Health in Vietnam can give to an individual who has outstandingly contributed to the health care of the Vietnamese people."
Dr Nicole Smith has worked in Vietnam since 2007, firstly as an epidemiologist in communicable diseases and then as a team leader from the 'Communicable Diseases Surveillance and Response Team'.
While working in Vietnam, Dr Nicole Smith has made many remarkable contributions regarding communicable diseases. In particularly, those activities relating to pandemic prevention and control, and the pandemic A(H1N1) response to this virus within Vietnam.
As an epidemiologist from the WHO in Vietnam, Dr Nicole Smith has coordinated with other international agencies such as: FAO, UNICEF, USAID, USCDC, ADB, WB, and the Ministry of Agricultural and Rural Development, in order to implement strategies relating to pandemic prevention and control.
Mr. Huan congratulated Dr Nicole Smith, and expressed his appreciation to the WHO and other international organizations for their support of Vietnam's health sector.
Dr. Smith said, "I am inspired by your commitment, your dedication, and your passion for improving the public health for all its citizens of Vietnam". She expressed her thanks to everyone in Hanoi and said that now this city has become her home.