A 29-year-old woman from the city of Nha Trang, Khanh Hoa Province, died from A/H1N1 flu on August 3, four days after being admitted to the province's General Hospital, a health official said.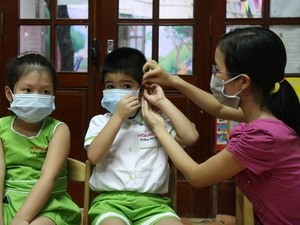 A teacher of Hong Gia pre-school in Hanoi helps pupils to wear facemasks properly to prevent the flu spreading (Photo: VNA)
The province's Department of Health August 4 confirmed the first facility of swine flu in the country.
The female victim, Tran Thi Kim L., a pho vendor, died from breathing problems and pneumonia at the hospital.
She was admitted on July 30 at Army Hospital 87, with the Nha Trang Pasteur Institute confirming she tested positive for the flu virus the next day.
The victim was transferred to the province's general hospital due to her poor condition, as she could not breathe unaided.
Her body will be kept at the hospital to be cleaned before being buried.
Her nine year old child, who was also infected with the H1N1virus, remains in the same hospital but is in a stable condition.
As of August 4, Khanh Hoa has recorded 23 cases of swine flu, including 17 people who have been discharged.
August 4 alone witnessed 24 new H1N1 flu infections nationwide with 11 in the North, 10 in the South and three in Central Vietnam, reported the Department of Preventive Medicine and Environment under the Ministry of Health.
As a result, the total number of confirmed cases reached 995 by 6 pm on August 4.

Among the infected patients, 521 have fully recovered and been discharged from hospital while 473 others, including the latest cases, have been isolated, are undergoing treatment, and are in stable condition, showing no serious symptoms, said the Department.